Holistic Information Portal on Renewable Energy
Renewable Energy News in India
Home /

Renewable Energy News in India
IAFA switches over to solar energy
---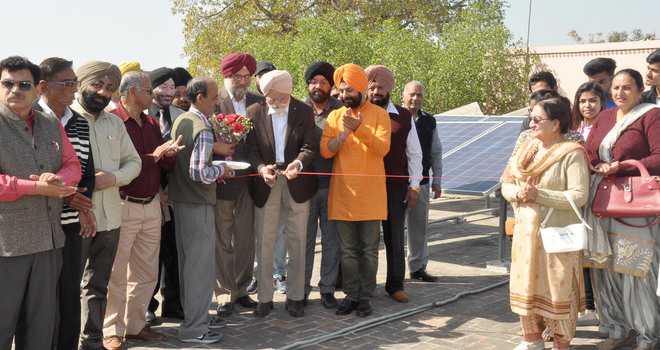 Prominent theatre personality Jatinder Brar inaugurated a solar plant at the Indian Academy of Fine Arts on Sunday.
Honorary general secretary Arvinder Singh Chamak said, "This technology is being adopted by a number of institutions across the country. We have also taken a step with the installation of solar plant. A solar plant is the need of the hour. Such endeavors also promote a greener environment and utilization of nature in its best way. It is not only about saving money but promoting a healthy environment. We are creating, consuming and supplying energy to Punjab State Power Corporation Limited."
"It is the brainchild of chairman of the gallery, Rajinder Mohan Singh. It is a moment of proud for all of us," said Shivdev Singh.
Educational institutes, including Khalsa College, DAV College, Guru Nanak Dev University and Punjab Naatshala, have also installed such a plant.
Amplus Solar Energy, Gurugram, has installed the plant at the academy. —TNS
News Date:
18-Mar-2019
News Source:
https://www.tribuneindia.com/news/amritsar/iafa-switches-over-to-solar-energy/744994.html
About Portal
'All About Renewables' aims to bring about a change in the way we 'look and search' for data on renewables today, by providing access to the latest developments in the renewable energy sector (specifically renewable electricity), along with cross-linkages to the conventional energy sector, all on one single platform... Read More
Contact
Plot No.44, Hindustan Estates,
Kalyani Nagar, Pune 411 006, India
(020) 26613855
(020) 26613832